3M N95 #1870 RESPIRATORS - 20PK :: ReadyPlus Canada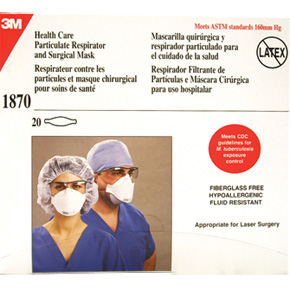 View other images
3Mô N95 Health Care Particulate Respirator and Surgical Mask 1870
Health Care Particulate Respirator Type N95, Flat-Fold/Three-Panel, High Fluid Resistant, White. 20 masks/box
NIOSH - certified N95 respirator. High fluid resistant masks pass ASTM highest level of 160mm Hg for fluid and splash resistance.
F62507010
In Stock
Original Quality 3M Brand
These folded N95 Respirators come individually sealed in a plastic bag to keep them clean. Just the right size to fit on any size face. The bendable nose strip helps the mask contour to fit your face.
Characteristics:
Aerosol Type
Non-Oil
Braided Comfort Strap
No
Exhalation Valve
No
Faceseal / Nosefoam
Nosefoam
FDA Cleared
Yes
Flame Resistance (ASTM D2859-96)
No
Fluid Resistant (ASTM F1862)
Yes
Individually Wrapped
Yes
Natural Rubber Latex Components
No
NIOSH Approval Number
TC-84A-3844
Nose Clip Shape
Straight
Ozone (3M Recommended up to 10X OSHA PEL)
No
Product Type
Healthcare Respirator
Respirator Style
Flat Fold
Size
Standard
Strap Attachment Type
Stapled