Datrex Emergency Ration Food Bars :: Ontario, Canada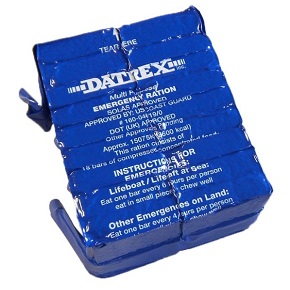 View other images
DATREX 3600CAL EMERG FOOD BAR
---
Datrex Food Ration Bars are excellent tasting and are ideal for emergency reserves, survival kits, earthquake 72 hour kits, and of course, life rafts. Each multi-layered sealed pouch contains 18 individually wrapped bars which contain 200 calories each. The outer foil package is heat sealed to maintain maximum freshness and ease of dispersing.
Only the 3600K size rations should be used in 72 hour kits. We do not recommend using anything less.
Datrex Food Rations are is used by the American Red Cross, U.S. Coast Guard and many other groups and organizations around the world for use as emergency survival food. In a survival situation, one block of 18 bars is sufficient to sustain a person for 3 days.
They are make to be high in calories and low in protein so as to provide high energy yet require minimal water for digestion. Specifically developed to be NON-THIRST PROVOKING. No need to "wash it down" when eating. Extra long 3 to 5 YEAR SHELF-LIFE! They taste like a crunchy cookie with a slight coconut flavor.
>>> Click Here for a video on Datrex Food Production.
F62107022
In Stock
Datrex Food Ration Bar Specs:
Provides 3600 Calories (18 - 200 calorie inner bars)
High Energy Value
Made to be Non-Thirst provoking
Pleasant cookie taste
Small and Compact
No Preservatives
All natural ingredients
Non affected by high heat or freezing cold (think, car trunk emergency kit or cruise ship lifeboat in Alaska)
All natural ingredients

Vacuum sealed packaging locks in flavor
Individual sealed bars make for easier rationing and dispersing
No cooking or heating needed Eat straight from the package
Long 3 to 5 year shelf-life
U.S. Coast Guard Approved
Canadian Coat Guard Approved
EC World Coast Guard Lifeboat Approved
Price is for 1 - 3600k ration (3 units shown in photo for illustration only)
Nutritional Information:
Each inner bar contains 200 calories, 3gm of protein, 21gm of carbohydrate, and .75mg of sodium. Total fat is 10gm, saturated fat is 2gm, mono-unsaturated fat is 7gm, and poly-unsaturated fat is 1gm. Cholesterol is .378mg. Additionally, each bar contains Vitamin A and C, plus Thiamine, Riboflavin, and Niacin.
MADE IN THE US
Taste Comments from our Customers:
"Not bad, sort of like a coconut flavored cookie"
"Soft, light, crumbly, good"
"Excellent flavor with no bad aftertaste"
"Kinda like a cereal cookie bar taste"
"Better than other brands I have tried"
"Even my kids liked it. Surprising"
Datrex brand rations are the only U.S., Canadian, and International rations approved for lifeboat use worldwide. (The package states that used as a an approved 'lifeboat' ration, the 3600k unit is met to be a 8-day ration – definitely survival).
Datrex Food Ration Ingredients & Nutritional Information: Ingredients: Wheat Flour, Vegetable Shortening, Cane Sugar, Water, Coconut and Salt.
Net Wt. 20 oz.
Serving Size: 1 Bar (38 grams)
Servings Per Unit: 18 individually wrapped bars
Each package is stamped with it's manufacture and expiration date.
Nutrition Facts per serving:
Calories 200 Calories from fat 52
%Daily Value*
Fat 10 gm 26%
Mono-Unsaturated 7 gm 65%
Poly-Unsaturated 1 gm 14%
Cholesterol .378 gm
Sodium .75 mg <1%
Total Carbohydrates 21 g 55%
Protein 7%
Vitamin A 1%
Vitamin C 1%
Thiamin 8%
Riboflavin 5%
Niacin 4%

*Percent Daily Values are based on a 2000 calorie diet. Your Daily Values may be higher or lower depending on your calorie needs: