New Items - LECRST:5.3L LTD EDN MAPLE LEAF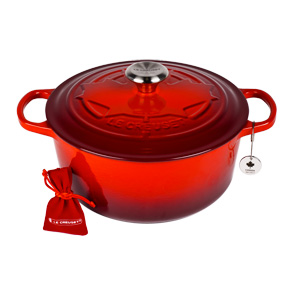 F24403523266
Coming Soon
Le Creuset Canada is proud to unveil a limited edition custom
Maple Leaf Round French Oven in recognition of Canada's 150th Anniversary being celebrated from coast to coast in 2017.
In honour of the country's year of Confederation, only 1,867 have been produced.
The Stainless Steel knob of each has been individually numbered in sequential order leading up to product number 1867. A display medallion has been engraved with the maple leaf, anniversary years of 1867 and 2017 and the Le Creuset logo. Each distinct french oven is packaged in a limited edition box with an accompanying booklet, certificate of authenticity, and a frame-worthy 11.5 x11.5 inch commemorative map of Canada.
CELEBRATE CANADA WITH LE CREUSET !