*NEW* 275G Emergency Water Storage Tanks Canada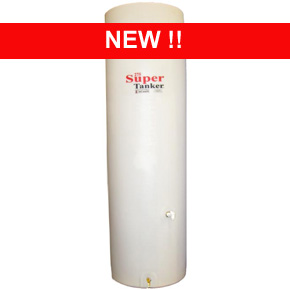 View other images
Click here for more information and product video.

The BEST long term water solution available. Water has a 5 year shelf life*
275 Days Water Storage
(based on one gallon per person per day)
The BEST in home long term water storage on the market. Designed to minimize water storage space and maximize water storage volume in a vertical cylinder. Engineered with seamless construction to safely handle up to 2750 lbs. of water for long term storage in a gravity fed system.
275 Gallon Super Tanker . . . $499.95**
F62201624
In Stock
.
275 Days Water Storage (based on one gallon per person per day)



Takes up less floor space than two 55 gallon drums
Will hold the same volume as five 55 gallon drums.
Gravity fed: no need for an expensive syphon to dispense water
FDA & HPB approved food grade polyethylene.
NSF Approved & BPA Free.
Comes complete with spigot and high quality ball valve.
Designed to fit through any 25" doorway
275 gal. (24" wide x 40" long x 80" tall)
Thank you for choosing to purchase the Super Tanker. This is a bulky item to ship and to maximize the cost savings to you, we purchase large quantities of Super Tankers and have them shipped to our warehouses. You have the option to arrange a pick up or we will find the best shipping rate from the closest warehouse to your location saving you, in some cases, up to hundreds of dollars in delivery costs. For customers outside of Ontario, we will ship direct from the closest distribution center to you at the best shipping rate available. You will be contacted to confirm the shipping costs once determined.
* with the addition of Aerobic Oxygen
(You'll need to add 8 oz to this tank)
| | | | | | | | | |
| --- | --- | --- | --- | --- | --- | --- | --- | --- |
| | | Item | Description | Available | Price | UM | Mfg Part # | |
| | | F62122034 | Wise Premium 1080 Serving Package | In Stock | $ 2,295.00 | / EA | CA40-41080 | |
| | | | | | | | | |
| --- | --- | --- | --- | --- | --- | --- | --- | --- |
| | | Item | Description | Available | Price | UM | Mfg Part # | |
| | | F96308027 | Landed Frt Charge per 275G Tank | In Stock | $ 50.00 | / EA | | |